Suspicious Kisses
I think there might be a few secret romances going on in the entertainment industry. The 'razzi have been catching some of your favorite celebs slobbing each other down behind the scenes of recent events.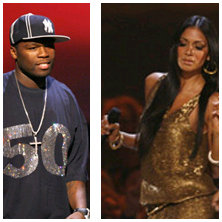 50 Cent

was caught
recieving a little lip action
from lead Pussycat,

Nicole Scherzinger

, at this year's VMAs in NYC. I don't know what that was about, but I'm praying that the smooch was somehow an innocent one. Nicole is too sexy and smart to be affiliated with Hip-Hop's top gorilla. She can do much better.

Paris Hilton's

ho-ish ass decided to give

Kanye West's
neck some special attention
at a Best Dressed party. The funny thing is, all this undercover love was being expressed right behind the back of Kanye's fiancé, Alexis. Then Paris
acted all friendly
when the wifey showed up seconds later. See, even famous people can be sideline hoes.
This one is very wierd. The picture shows R&B singer,

Chili

, passionately
kissing her son
Tron on the lips like she had a mental relapse from the "U Got It Bad" video. I'm going to need her to provide an explanation with the quickness, because this is disturbing.
What are you all thinking? Are these celebrities getting busy off-camera or are these pictures being misinterpreted?