Jacki-O Pops Off
These southern rap females are annoying the hell out of me with these pathetic beefs.

Jacki-O

just released a new diss record aimed at fellow Floridian rapper

Khia

called "Pop Off". The fuel to this fire was all the shit-talking Khia was doing in the various magazines she was featured in these past months.
Honestly, I barely even listened to this record. Jacki-O makes me itch. I don't know why she's beefing with Khia, anyway. They're both equally broke. I mean, Jackie got caught stealing lipgloss out of Niemen Marcus and Khia's last video looked like it was directed by an autistic 2nd grader named Larry. Boo to both of you bitches.
Jacki-O - Pop Off (Khia Diss)

------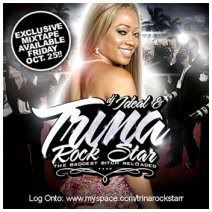 On another note, Trina is tantalizing her fans with an oncoming mixtape titled Rock Star: The Baddest Bitch Reloaded, which is expected to also be the name of her actual album. The mixtape, featuring DJ Ideal as the host, will be available next week.