.. New Music ..
Play Me:
Nas - Black Republican (feat. Jay-Z)
This is the record that the world has been waiting on. It's off of Nas' upcoming album, Hip-Hop Is Dead, and yes, it's hot! This clip is only a radio rip, so the quality is poor, but you can still get a grip of what the track is hitting with. I can't wait for the Nas album to drop in December.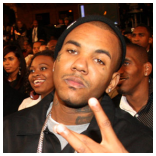 Play Me:
The Game - Wouldn't Get Far (feat. Kanye West)
This is also a hot song. Although I can't stand The Game's personality, I have to admit that the brother knows how to make a decent record. "Wouldn't Get Far" is basically about industry hoes, groupies, and golddiggers, so of course Kanye had to grace the track. Jayceon was not afraid to name names either. Ooh!
Play Me:
Cherish - He Said, She Said (feat. Nephu)
Excuse me while I yawn. This is an unreleased track by Cherish and it's pretty damn boring. I don't think these ladies will even see a sophomore album. No wonder they're feeling unappreciated.